Islamabad is popular for burgers. Some of them you eat, and some of them you meet. So, what does a "bored" burger do? They make fun of themselves by trying to make fun of you.
That's exactly what Uzma Chaudhry and Diya Haider, the owners of Cannoli by Cafe Soul, did. The ladies got so bored that they finally got a chance to speak to their employee. Awais Aftab is the manager of Cannoli by Cafe Soul and has been employed there for 9 years. So the ladies decided not only to talk to their employee but also to film it. That's their 'boriyat buster', apparently!
Here's the video:
The video reveals one thing about Awais Aftab: he's not a fluent English speaker. Apparently that's something to make fun of. But the same video exposes the elitist behavior of two bored ladies.
During the video, we get to know how they treat their employee who has been working for them for 9 years. We get to know that they paid for the English classes that Awais took to improve his English language skills. And we get to know that the manager draws "a very good salary, mind you!" and speaks "'beautiful' English".
It's not very often that something symbolizes a 'burger' behavior.
Reactions on Social Media
#BoycottCannoli has been the top trend on Twitter all day
Google Listing of Cannoli by Cafe Soul
The backlash didn't just remain to Twitter and Instagram. But also impacted the Google listing of Cannoli by Cafe Soul. Hundreds of users left 1-star reviews. Here's before and after of Cannoli by Cafe Soul's Google listing:
Before
After
In all this, a response by the cafe was posted on social media:
Cannoli by Cafe Soul Response to Awais Video Controversy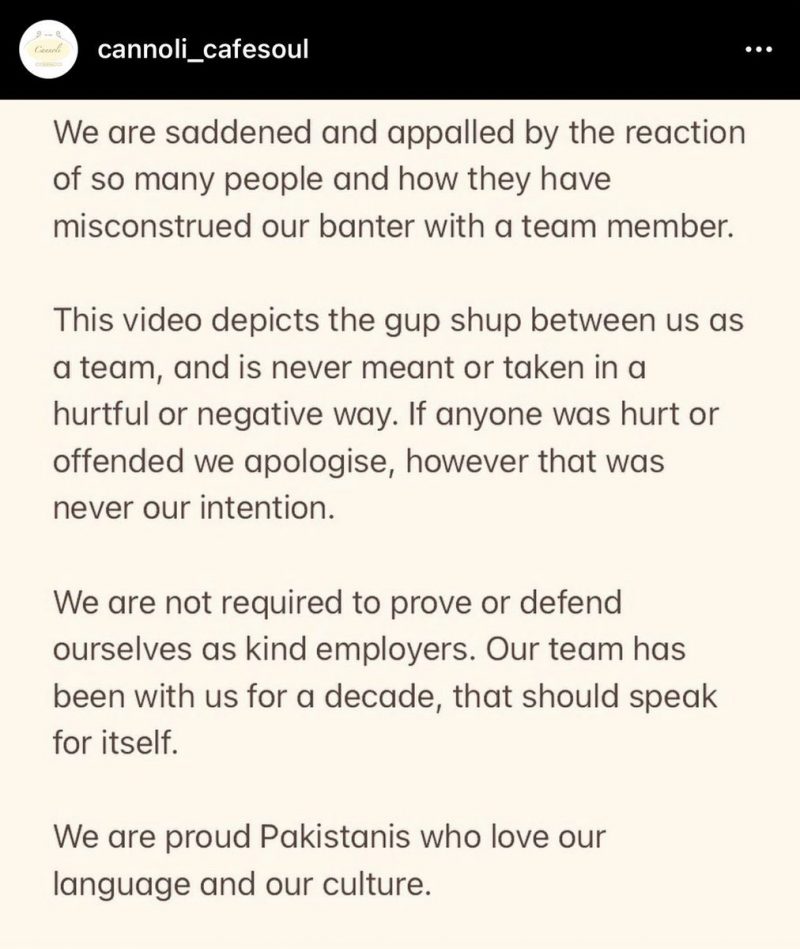 Well, a nice way to ruin it further. They were 'saddened and appalled by the reaction'. Wow! Burgers will be burgers.