There's nothing like an Imran Tahir celebration. Soon as the Pakistan-born South African spinner takes a wickets, he takes off. Literally. Well, that can't be explained in words… here's what I'm talking about:
Imran Tahir's superb return catch to dismiss Imam-ul-Haq has been voted to be yesterday's @Nissan Play of the Day!#PAKvSA | #CWC19 pic.twitter.com/MX8vgueeNA

— ICC (@ICC) June 24, 2019
Imran Tahir does that almost every time he takes a wicket. What's amazing is that he runs away from his team mates as he celebrates. Takes a round and comes back to hug his mates later.
He's done this many times in Cricket World Cup 2019 too.
The fans love it, and the memes below are the proof:
Imran Tahir Celebration Memes
There are plenty of them. But this one's perhaps the best:
Imran Tahir Peek Freans Sooper Meme
The one and only Imran Tahir #CWC19 pic.twitter.com/CFRBDQMZnR

— Saj Sadiq (@Saj_PakPassion) June 25, 2019
A lot of people took to Tik Tok to mimic the celebration.
Imran Tahir Memes on Tik Tok
No body:

Literally nobody:

Imran Tahir after taking wicket or catch: pic.twitter.com/ltPRJWdtGw

— Asad🇵🇰 (@GoStudyAsad) June 23, 2019
Here's another one:
Good style imran tahir pic.twitter.com/jkxpECAtXU

— Akbar Khan (@AkbarKh56402884) June 24, 2019
There's no stopping Tahir…
No one
Nobody:

Imran Tahir after taking a wicket: pic.twitter.com/Lq1xzifgTv

— Adil Dar (@adilmdar) June 23, 2019
Literally nobody
Tahir's going places…
Reached Lahore
and now on a beach
Was caught for a traffic violation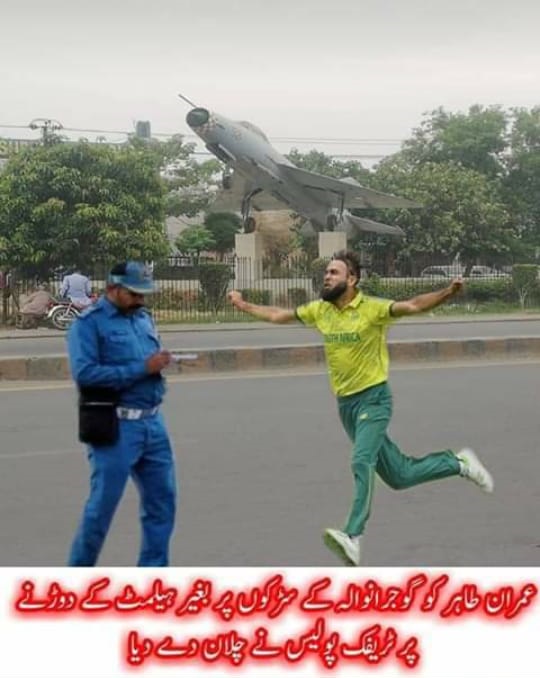 And got arrested too
Finally Imran Tahir Got Arrested From Bhutta Colony..
Punjab Police Zindabad..!!! pic.twitter.com/t0OxkUrNwh

— Ultravoilet🍁 (@iam__usama) June 25, 2019
He's playing around with the Bollywood folk
The Forrest Gump moment
No body :

Literally nobody :

Imran Tahir after taking wicket or catch : pic.twitter.com/xhfbW7GIAB

— Asad🇵🇰 (@JanLad_23) June 23, 2019
Meanwhile, the fans in the stadium:
A spectator who is sitting near the boundary rope watching IMRAN TAHIR after he takes a wicket pic.twitter.com/JJBywc8l5y

— Singh in the North (@anghadhundal) June 27, 2019