AdAsia 2019 is in Pakistan. Asia's most prestigious advertising congress is coming to Pakistan after 30 years. This is surely a great news as one of the most touted events of marketing and advertising industry is happening in after such a long time in Pakistan.
UPDATE: It's official! Here's everything you need to know about AdAsia Lahore 2019
This will be the 31st congress. The event is organized by Asian Federation of Advertising Associations (AFAA) and will be held at Expo Center Lahore, from December 2-5. The last time the event was held in Pakistan was by back in 1989. This is very exciting news for Pakistan.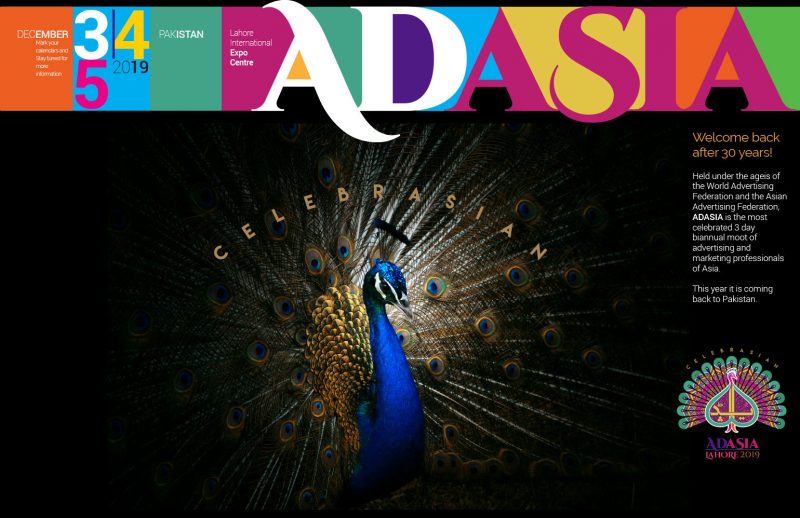 The AdAsia 2019 Lahore Details:
The event is from December 2 to December 5, 2019 in Expo Center, Lahore Pakistan.
Mr. Sarmad Ali is the chairman of organizing committee of AdAsia 2019, and Mr. Sohail Kisat is the vice chairman. The logo for the event is designed by Shahzad Nawaz and unveiled by Pakistan Advertising Association (PAA). The logo unveiling event was hosted by many in media. The logo is designed around the theme of the event, which is: 'Celebrasian: Celebration of Advertising and Creativity in Asia'.
AdAsia Lahore 2019 is expected to bring as many as 1000 participants from around the world. The participants would mostly be from advertising and creative communications industry. A majority of them would be from South Asia.
Notable attendees of AdAsia 2019 Lahore
Among notable attendees are:
Richard Quest – Chief Business Correspondent of CNN
Peter Draper – Former Marketing Director of Manchester United FC
Imran Khan, Prime Minister of Pakistan and Asad Umar, the Finance Minister have also been invited to speak at the event as guest speakers. If any of the 2 gentlemen confirms their participation – which is likely they would – it is going to give the event a much needed boost.
There would be more as the event date nears. This is surely going to be one of the exciting events of the year to be held in Pakistan. We can't wait for AdAsia 2019. Pakistan, are you ready?!