It all started when Momina along with Ahad Raza Mir massacred a classic song, Ko Ko Korina, in the new season of Coke Studio. There was a lot of hate on the song making it the most disliked song ever – 57k, which in itself is a record if one is looking for silver linings.

The internet went ballistic, and rightly so. People's feeds were full of criticism amongst which Momina decided to entertain one tweet. The audacity.
Roast of Momina Mustehsan
Shireen Mazari, Minister of Human Rights, stated her opinion and on it, and Momina could not digest the fact that a political figure COULD have a personal opinion and lashed out with big words like 'cyberbullying', 'freedom of expression' (ironically so), 'hate speech', but the best of them all was her reference to Uncle Ben. Slow clap.

And then she gave us this gold.

We took this dank opportunity to add some spice to the roast because why not.
1. The song became political all of a sudden
2. Quoting Uncle Ben, really??
3. Savage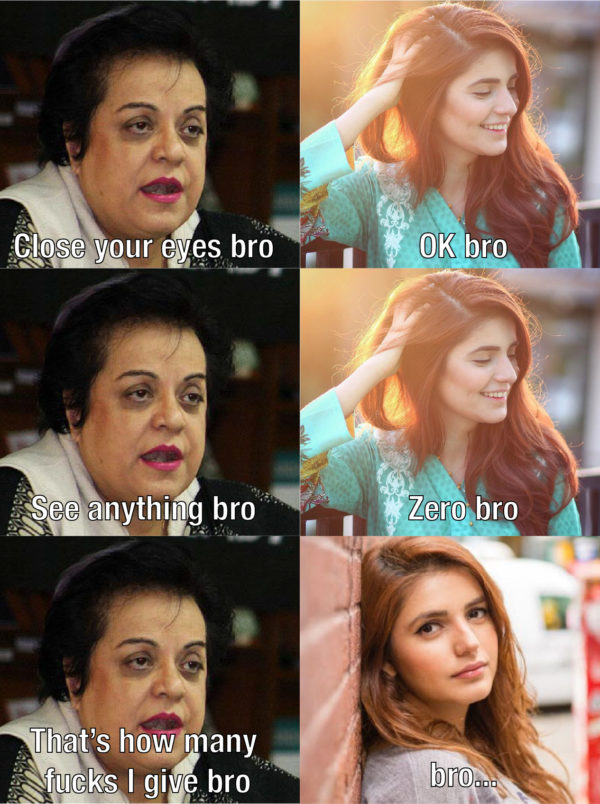 4. Gormint 1: Momina 0
5. I'll have the last word moment
And then she asked Ahad to chime in
Ahad, who was happy watching from the sidelines hoping no one notices him so he can forever forget this happened, spoke up. Continue with the slow clap, please. These people really don't know when to stop, do they?

Someone explain to these purporters of 'freedom of speech' that Shireen Mazari is exercising that very same right. They should learn to take criticism with some grace instead of running for their dictionaries.